La Comunidad GrinUGR sobre Historia Digital "Bits of History" pretende acercarse al fenómeno de las nuevas tecnologías en el campo de la Historia, tanto en enseñanza como en investigación. La Historia Digital es un campo de investigación que se enmarca dentro de la corriente de Humanidades Digitales.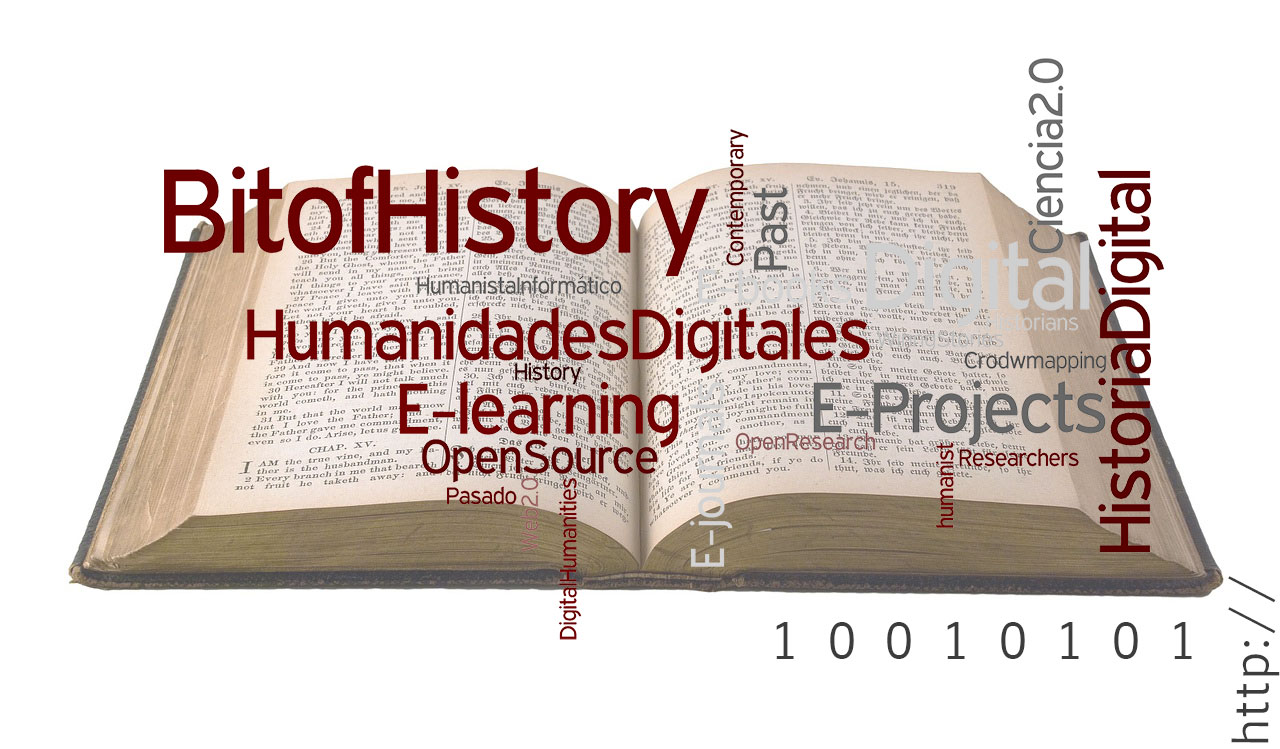 Cómo participar en la Comunidad
Si te interesa participar en esta comunidad sólo es necesario hacer lo siguiente:
Inscribirse en esta lista de correo de GrinUGR dentro de la comunidad o comunidades a las que quiera pertenecer.
Formar parte de este Grupo de Correo de Google donde los participantes podrán intercambiar información sobre el tema y discutir todo lo relevante sobre las convocatorias de esta Comunidad.
Coordinación
La coordinadora de la comunidad "Bits of History" es Lidia Bocanegra (perfil).
Objetivos de la Comunidad
De forma periódica, "Bits of History" pretende crear una red de historiadores de cualquier área y cualquier período que utilicen Internet, la Web 2.0, bases de datos en línea y software Open Source tanto en la investigación como en la enseñanza en historia, sin olvidar la difusión de los datos obtenidos (e-journals, e-books, blogs). Una vez configuremos una comunidad de interesados, se irán estableciendo seminarios y webinars con la comunidad GrinUGR en función de las áreas y períodos de aquellos humanistas digitales que formen parte de la misma en campo como historia de arte, arqueología, historia contemporánea, entre otros. A través de talleres específicos organizados por temas, nuestro objetivo es aprender de las experiencias en investigación y enseñanza de los miembros de la comunidad que aporten su granito de bit al grupo, compartiendo ideas y generando un brainstorming de cara a futuros proyectos nacionales e internacionales. Puede participar en el grupo cualquier persona que muestre interés en la tecnología aplicada a la investigación y la enseñanza en historia desde cualquier ámbito geográfico. Debido a su carácter bilingüe, inglés y español, nuestro proyecto podrá contar con especialistas de ámbito internacional haciéndose un llamamiento a grupos de investigación en este área con referentes tales como Digital History y DigiHist Blog por citar algunos ejemplos. Nuestro primer taller versará acerca de la recogida de memorias personales en línea contando con proyectos que utilizan Internet y la colaboración de las personas para obtener los datos dentro del campo de la historia contemporánea y actual. Proyectos que se basan en uno de los pilares de la denominada Ciencia 2.0, en donde los ciudadanos llegan a formar parte de la producción científica en tanto que colaboradores activos de la misma. Si eres un humanista digital aquí no hay fronteras, no lo dudes y únete a nosotros. You are very welcome!
Más información
Se pueden consultar las sesiones realizadas en la categoría "Comunidad Historia Digital".